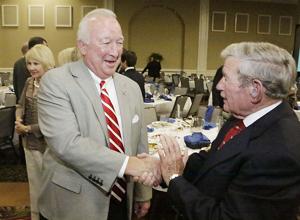 BY JOHN D. RUSSELL Morning News jrussell@florencenews.com
FLORENCE, S.C. – Reamer King said he isn't worthy of the annual Business Person of the Year award he received Thursday at the Greater Florence Chamber of Commerce's annual membership luncheon.
The King Cadillac Buick GMC owner was quick to say he didn't deserve the award because his business success wouldn't have been possible without the fantastic people at his dealership on West Evans Street in Florence. He started with 24 employees on a two-acre lot. Now he employs 100 people on an eight-acre lot.
http://www.scnow.com/news/business/article_aecb2fd2-5011-11e4-9b50-0017a43b2370.html